Posted on August 28 2019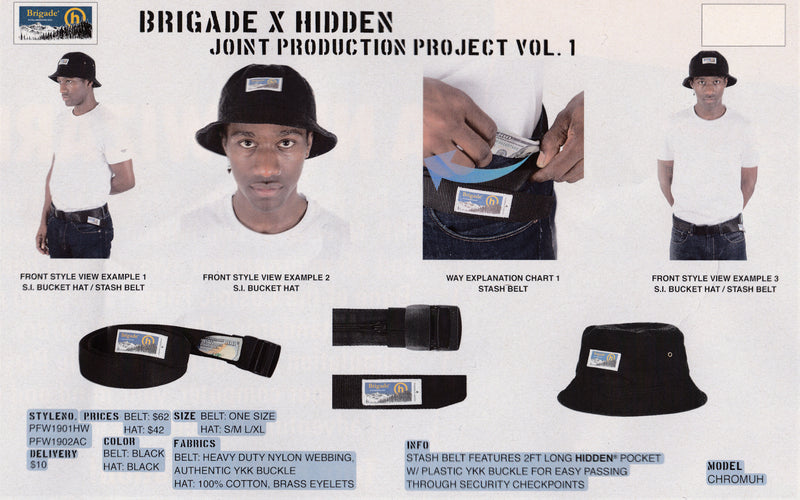 The introduction to a technical Fall/Winter, our work with Hidden is a laser focused display of the functionality of "fashion." Creating core products with no extra frills, this is a capsule that will hang along with you on the subway or a hiking trip.
Being grounded in a love and admiration for the generations before, Hidden and Brigade share a strong respect and friendship with one another resulting in a forward thinking collaboration. Both of us take time to study the masters, not only the designers of clothes but of society's paradigms.
With Hidden's ability to dig into the past through magazine scans and tucked away photos, we were able to conceive of a lookbook idea that puts a new spin on a classic motif. Using straightforward photos, a strong slogan, and no bulls*t run around, core products gain a life of their own, living in the future through the past. Sticking to Brigade's values, the lookbook was modeled by Chromuh, an NYC based friend we met through Hidden.
When it came time to work on the lookbook together, we took the time to design editorial layouts, as well as print, age, and scan the photos to reflect Hidden's archival tone. Using minimal branding, the belt does its job and then some, made from a heavy nylon webbing, with a "stash" pocket on the inside for money, documents, or anything important. A belt should be a workhorse, and with this collection we cut no corners on quality. Designing the bucket hat, a more laid back approach to casual style was used, with a 100% cotton construction and metal eyelets on each side. Using two classic pieces that can go understated, we wanted to bring attention to how we believe they should be made.
Concrete forests to evergreen cities, a lot of what we wear can easily be translated across environments. Following these threads we find out that some styles are timeless, across landscapes and generations.
Both products will be available Friday 8/30 @12pm EST. on brigadeus.com/shop