Posted on January 01 2020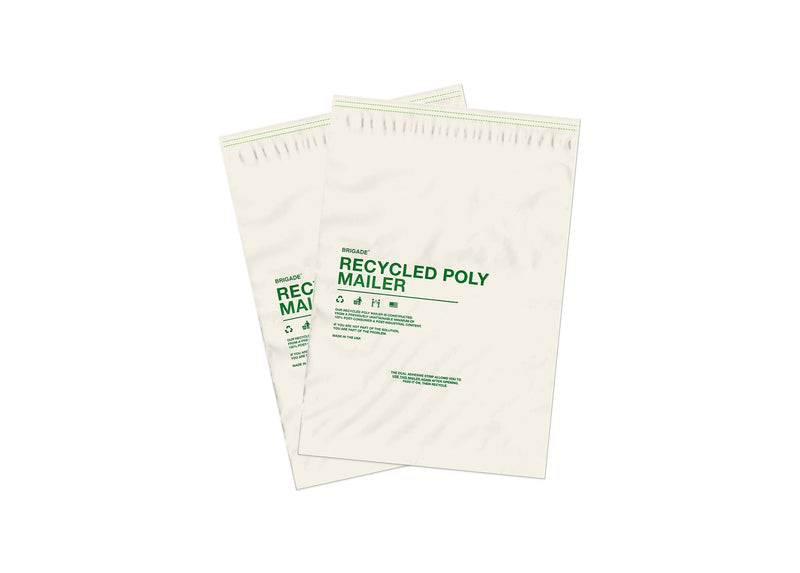 Our packaging has been something we were not proud of for a long time.
The industry standard plastic "poly mailer" is cost effective. They don't tear, they're weatherproof(ish), and they come in a variety of colors and sizes. A majority of online businesses use these mailers as modern day capitalist practices imply the profit of the company is what's important, turn your cheek to anything beyond that. This is not the side of history we want to be on.
We feel it is our duty not only as a business, but as a brand, to bring attention to the crisis that is the human impact on the planet. We are grateful to have a platform that allows us the ability to inform.
About a year ago, we went on a quest to find the best alternative to the standard poly mailer. It is with great pride we can introduce our new Brigade Recycled Poly Mailers. The goal was simple, find something that was made of 100% post-consumer and post-industrial content; you wouldn't believe how hard it was to actually do. What we learned was that 88% recycled is the best you can get, affordably. Yes, this is better than 0%, but it wasn't good enough for us.
Packaging is the dominant sectoral use of plastics globally, accounting for 42% in 2016. Packaging tends to have a much lower lifetime than other products and it is also dominant in terms of annual waste generation. It is responsible for almost half of global plastic waste. We refuse to add to this problem.
After a few months of research and correspondence with some US based businesses, we had a lead. An eco-conscious company based out of Colorado. They introduced us to an innovative product they had recently finalized, 100% recycled poly mailers. Not only are they made completely of used recycled content, they feature a dual adhesive strip. This makes them reusable by our supporters. There is a tear guide on the back; simply tear the first strip away and you are left with your own usable mailer. This is our favorite feature as not only do we have the benefit of minimizing our footprint as a company, but we are able to help minimize our supporter's footprint as well.
Moving forward, a majority of our orders will be shipped in these new mailers. We are still a growing company, so it takes baby steps. Our history shows 13"x15" mailers are what we use the most, so that is what we have started with. It is our goal by the end of 2020 to move into solely shipping in these new mailers.
If you're not part of the solution, you're part of the problem!