Posted on October 11 2019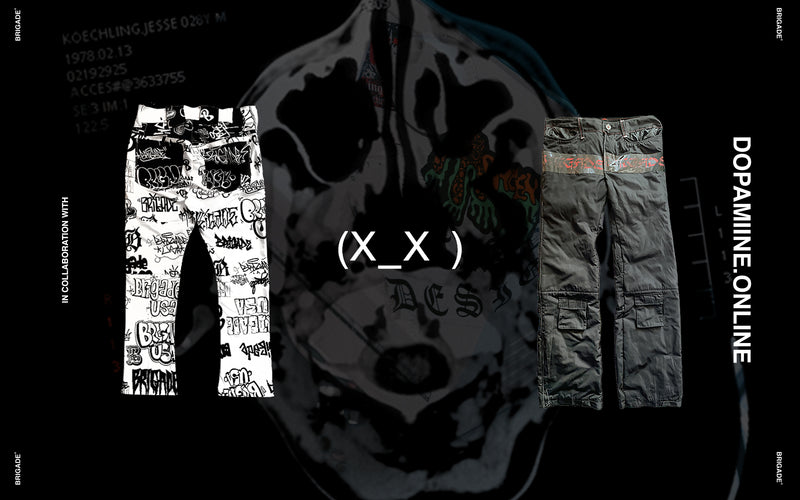 We met with DOPAMIINE ONLINE for a brief, spur-of-the-moment car conversation over the weekend. Even when rushed, some of the most beautiful, contemplative moments arise from these intimate interviews.
I also got the chance to speak with him in May 2019. My insights here are an analysis of his journey from then to now, and based on both of those conversations.
A few weekends ago, Brigade gifted 8-10 leftover garments from past collections to DOPAMIINE ONLINE. He will be stocking his website with the pants on October 14th with a price range between $130-$180.
DOPAMIINE ONLINE is a 23-year-old, Instagram born, pant-centric "designer" who claims designer-ship with reluctance. When speaking with him, he told me about how he feels in comparison with more professionalized clothes-makers:
"My mentor knows all the traditional methods in fashion. I don't know anything, I literally know nothing. Like what defines a designer, right? I don't know what does. If you design things, you're a designer right? I guess I'm a designer, I'm just not up there yet."
I discovered that his identity struggles against labels and boxes make him uncomfortable. He prefers to stay humble. But at the end of the day, he has creative DNA, and DOPAMIINE is a living business and a platform for his artistry. Long-time supporters of Brigade might recognize him from the collaboration with Estrada in 2017.
We originally wanted a calm, scheduled sit-down interview, but the conversation was distilled into 15 minutes of Q&A in a car ride near his hometown in Millbrook, NY between him & Aaron, Brigade's founder. Despite the limitations, a lovely conversation ensued, where DOPAMIINE received a tender gift from Brigade: a copy of the Reader's Digest Complete Guide to Sewing. "You just leveled me up!" he said while accepting his gift.
The next gift was the leftover jackets and hoodies. DOPAMIINE is known for repurposing products into pants, so this is another chance for him to do so. Brigade wanted to create with an old friend whilst also avoiding donation.
Donating clothes is actually harmful — DOPAMIINE's experiences working at Salvation Army made that very clear to him, as he testifies to seeing a constant flow of garbage trucks picking up clothes for the landfill. Additionally, reporters at NPR discovered that a lot of our surplus second-hand clothing that doesn't go to landfills goes to third-world countries. These countries can benefit from selling these clothes in markets, but it's disrupted their economy and overwhelmed their supply to the point where some countries have proposed banning imports.
That's why this collaboration emphasizes sustainability. We're not sparing any fabric. The anti-waste philosophy is strong between both of us. Having two designers in a car creates inimitable chemistry — there was companionship between DOPAMIINE and Brigade before any questions were asked, before he even started on his artistic journey.
DOPAMIINE arose from a series of one-of-one projects, where he'd manipulate blankets, jackets and miscellaneous fabrics into pants. He's always affirmed his individuality through "crust punk" style, he says, crossing his legs up on the stool to reveal his patch-ridden jeans. After speaking with him briefly, I discovered a layered man, with a sense of humor grounded in harsh realism. This showed when I asked him for the origin of his name:
"I named it DOPAMIINE because I don't have a lot. Also, when you buy stuff, it releases dopamine. When you make stuff, it releases dopamine. So yeah, it's all just kind of a dopamine release."
His entire response was delivered in a poised, poetic manner, pausing only to re-light his spliff. He had just made a wise philosophical claim about existence, comparing it to a mechanical pursuit of happiness as if that's everyday conversation. The brand name "DOPAMIINE" is a reference to the neurochemical related to happiness and motivation, and an apt name for such a cerebral man.
The brand he's created started off as a somewhat planned attack. When the first pair of pants he released on Instagram garnered positive attention, he converted what was his personal account into a pant-making machine. As he continuously posted, he accumulated a steady following with celebrities approaching him via DM for personal orders.
A wide platform is scary. We all know the feeling of stage fright. Imagine that feeling on a grand scale, with an amorphous audience that exists in the hyperreal internet realm. It's challenging to keep up with the pressure of so many followers' expectations. But DOPAMIINE is as humble as he is insightful. He uses the pressure from his followers and the inevitable jealousy of seeing other designers' work on the internet as fuel, to get better at what he does.
A lot of what DOPAMIINE wants to do aligns with us. He wants to keep doing what he's doing aesthetically — he believes consistency and simplicity is key. The same way that he uses the raw essentials, like natural light and an iPhone to market his products is the same way that we use minimalism to our advantage. We both want to keep molding our brands by leveling up to professional work while retaining an authentic rawness.
In a lot of ways, Brigade has molded DOPAMIINE. He said to Aaron (Brigade's founder) in the car:
"You have a significant influence on me and my thinking. You were the first person to put me on to things I wasn't thinking of."
Aaron was put in a bit of a weird place when he heard this. It's often difficult for humble creators to feel elevated by others. In the same sense, it's hard to see what others are seeing in you.
While driving along Route 44, the conversation led to humbling insights. The two designers realized that making a dent in the universe with their brands, sustainably and without vanity, is probably one of the most difficult things about being a creator. They realized that while the long-term possibilities may seem too ideal or out of reach, it's beneficial to focus on how they've deeply impacted the people around them. In DOPAMIINE's words:
"I've inspired people to seek a higher path, people going back to school, people making clothes, people starting brands just by looking at me, which is pretty dope."
Aaron added on saying that what we can do is try to direct people into positive thinking and positive lifestyles. In DOPAMIINE's words:
"Move everyone your brand touches forward."
Brigade and DOPAMIINE ONLINE make a good team. Together we've made a set of unique pieces out of jackets and hoodies from past collections. Staying true to DOPAMIINE's one-of-one production model and both of our focuses on recycling and sustainability, we've created a collection of pants completely unalike from each other.
These pants will never be made again.
This is a collection of one-offs born from an exclusive collaboration.
Live on DOPAMIINE's website Monday, October 14th.